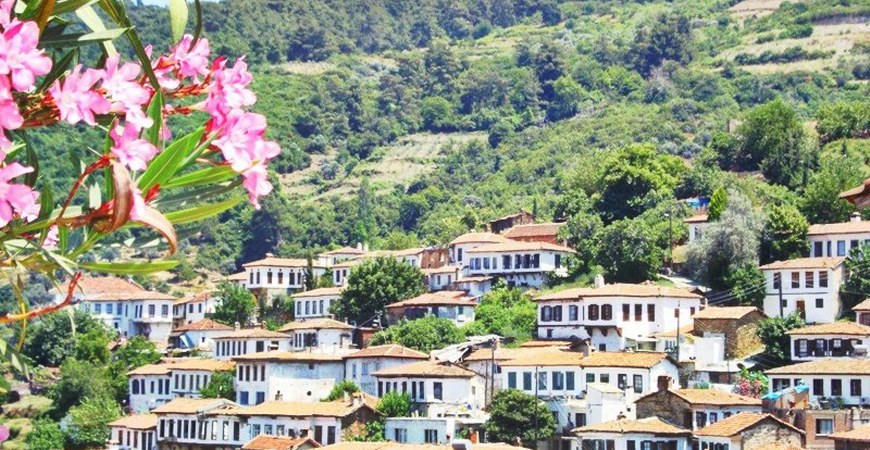 Sirince Village
The village of Şirince, which is situated between the green hills surrounded by olive trees, is one of the places that comes to mind when it comes to places to visit in Izmir. The village, which preserves its original historical architecture, hosts thousands of visitors from all over Turkey.
Sirince, a Greek Cypriot village whose population did not reach two centuries ago, opened its doors to Turks from Rumelia with the exchange. Until the time of the vineyard, the village, where wine-growing and olive farming took place, had to pause for a while because the new residents had a history of tobacco.
Sirince, who has turned into one of the most visited villages in the Aegean Region, has gone a long way in ecological production based on agriculture due to this interest. In addition to grape and olive cultivation, peach, fig, apple and walnut production are among the livelihood sources.
It is reported that Kirkınca, whose original name is given to forty people who hit the mountains in a legendary era. This name, which takes the form of Kirkice, Kirkince and Çirkince in the Greek pronunciation, was changed to Şirince by the order of Kazim Dirik, the governor of Izmir.
Ephesus Antique City, Meryemana and Kuşadası, as it is close to the tourist attractions attracted intensive touristic rotalara is included every year in the village.
Sirince is a lush green place with a decent name. The archaeological texture of the village, which has been declared a protected area, has been preserved faithfully. Sirince, whose houses are two storeys, is fascinated by mansions that look like a picture in a remote green nature. It is very pleasant to walk among the old houses in the stone-paved narrow streets of Şirince. Traveling in the streets, it feels like a time travel in history.
Sirince Places to Visit
Sirince means Sirince bazaar. A wide variety of products and rare handicraft products are offered to visitors, ranging from clothing to wine, glass to soap. It is possible to see handmade products on the counter in almost all streets of Şirince. It is a little difficult to come back to Sirince and get back without getting anything from this cute little horse.
St John Baptist Church, located in a fountain courtyard, is among the places to visit Şirince. In the past, it was a ruin, after the Ministry of Culture restored it became a wonderful place. In the middle of the small pool with the Virgin Mary statue, coins are being wished for by coincidence. You can also drink something at the bar right there and take pictures of the wonderful Sirince.
UNESCO World Heritage Ephesus Antique City in Selçuk, Selçuk Museum, St. Jean Basilica, Virgin Mary's House, Temple of Artemis can be seen as places to see while you are touring Sirince.
The residents of the village are extremely warm and hearty. Many houses in the village have been restored and converted into pensions and restaurants. In the streets of Sirince, delicious food is presented to visitors in a wide range of junk bottles, from the local grass meals to the cute meatballs.
The mezels made with herbs growing in the mountains of this place are very famous. Efe kebab, çakkertme, keşkek or hair roasting are among the most preferred dishes in Şirince.
Local jewels, scarves, wooden carving goods are offered every day by the villagers on street stalls. There are many shops selling fruit wine. The producers say they are making wine of every fruit that can come out of the water.
After visiting Şirince Village, Çınaraltı Square is the best place to relax, in the shade of centuries-old plane trees. A fresh-brewed tea is enough to get all the tiredness in this charming village.
How to get to Şirince
Şirince, which is located in the Selçuk district of Izmir, is 8 km to Selçuk, 12 km to Ephesus Antique city, 30 km to Kuşadası and 85 km to İzmir.
Those who will go to İzmir-city center should follow İzmir-Aydın Highway or İzmir-Aydın Highway and reach Selçuk district center. The length of the path extending from the center of Selçuk to the kosher is 8 km.
From Izmir, you can get to Selçuk by train, bus and private car. Selçuk Otogarı'dan Sirince daily flights every 30 minutes there are intervals. Frequent during the summer season, the winter period ends in air darkness. Going down to Kuşadası with intercity buses going to Selcuk and going to go to the keeper.