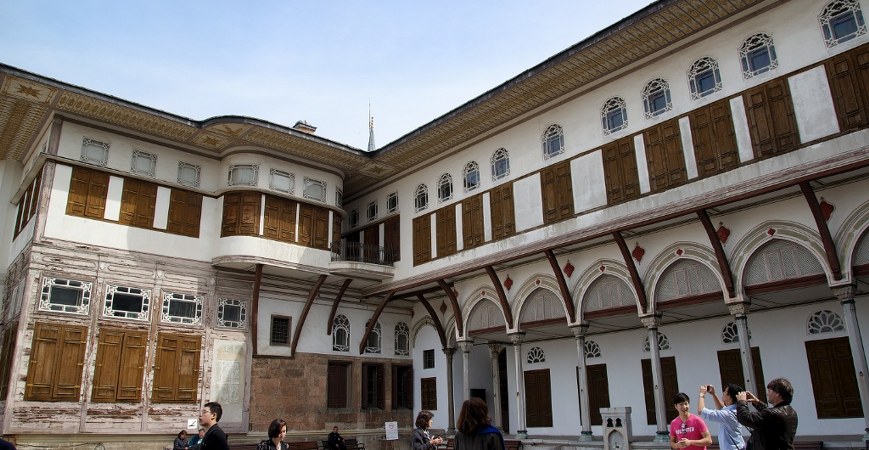 Topkapi Palace
Topkapi Palace is one of the most established palaces of Saraydar and the Ottoman Empire built as a residence by Fatih Sultan Mehmet between 1459 and 1465.
The palace was built not as a single building, but as four large courtyards and pavilions, reflecting the nomadic and tent culture of the Ottoman Empire. The palace is important not only for its use as a center for 4 centuries but also for hosting the Enderun Mektebi, a military and civil servant. The palace was evacuated in the 18th century when the palace family moved to Dolmabahçe Palace. In 1924 it was converted into a museum and opened in the open.
Departments of Topkapi Palace
This magnificent palace consists of six sections. These sections are Bab-ı Hümayun, Divan Square, Alay Square, Enderun Courtyard, Sofa-i Humayun, Harem. Each has its own characteristic structure and function.
The Divan-ı Humayun section, where the sultan and the viziers followed the meeting, the Iftariye Camii with the view of the Golden Horn, the Baghdad Pavilion built in honor of the conquest of Baghdad in 1639, Ahmet Library, the chamber of treasury.
The Topkapi Palace collection contains many unique and valuable ceramics, glass, silver, weapons, armor, miniatures, manuscripts, clothes, watches and sacred relics. The harem is seen as the most interesting part of the Topkapi Palace. The sultan of the sultan also draws attention to the harem, the architecture and the artifacts that can be seen in the place where the children live. Here, Valide Sultan Chamber where the mother of the sultan lives, Double Crescent decorated with Iznik tiles, dating from the 18th century III. Ahmet's dining room, the Chamber of Saltanat and the Harem Ağaları Taşlığı where the entertainments are organized.
Topkapi Palace which is one of the first places that comes to mind when it refers to places to visit in Istanbul, is visited by visitors in the month of Ramadan especially because of the hosting of hırka-i sherif and some other sacred relics.
Topkapı Palace Visiting Information
Address: Topkapı Palace Museum 34200 Istanbul
Transportation: The palace is near the Blue Mosque. You can reach from Sultanahmet stop by Metro, from Marmaray and Sirkeci stop, by tram and from Sultanahmet or Gülhane stops by here.
Visiting Days and Hours: The museum is open on Tuesdays on a daily basis. It can be visited from October 26 to April 15 from 09:00 to 16:45, from April 15 to October 26 from 09:00 to 18:45.
Entry Fees: Museum entrance ticket is 30 Lira
Notes: Entrance fees and visit times may vary periodically. Please check the website for updated information.