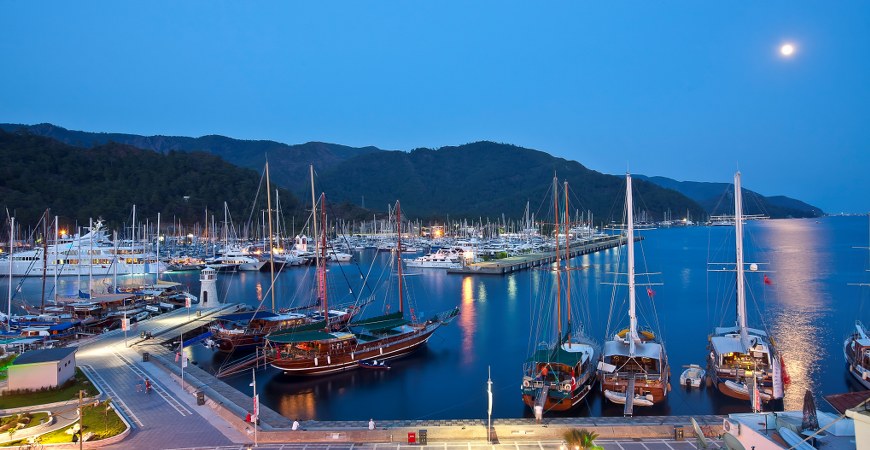 Marmaris
Marmaris is a paradise corner where you can see all the shades of green and blue in twelve months of the year. From the five stars to the most modest pension, all tourists can spend their vacations in the heart of heaven. It is a haven for couples to enjoy all kinds of water sports in the long coastal strip, natural harbor formation, proximity to ancient cities, natural beauties, blue tour facilities, modern yacht harbors, Marmaris, known for its fishery, sponge and lush vegetation for some time, has become a major tourism center today.
In addition to land transportation, Dalaman Airport and Rhodes Ferryboats can easily be opened to the outside world. Marmaris, located on the Datça road, increases its importance due to its proximity to the Fethiye road. As well as being a natural harbor for the yachts in the Mediterranean Sea, yacht production in Yalancı Bosphorus And can be maintained.
Having a Mediterranean climate makes it possible to enter the sea even in winter, while frequent and high mountains and pine forests all around, the rare Liquidamber Orientalis trees and wide-leaf plane trees form the green texture of Marmaris.
history
History BC It is claimed that the first settlement in Marmaris, which goes up to 3400s, started with the arrival of a tribe whose name was Snow. Region KARIA name was given after the meaning of the country of profit. The fertility of the Aegean and Mediterranean coasts, the region has always been attractive.
Thus, Marmaris has become a place where many civilizations have ruled over time. It is possible to see the traces of the civilizations of Karia, Rhodes and Ada, Egypt, Assyrian, Ion, Dor, Pers, Macedonian, Syria, Roman, Byzantine, Seljuk and Ottoman civilizations. Pyhskos is the first name of the city.
Climate
Marmaris, which is under the influence of Mediterranean climate, is hot and arid in summers and warm and rainy in winters.