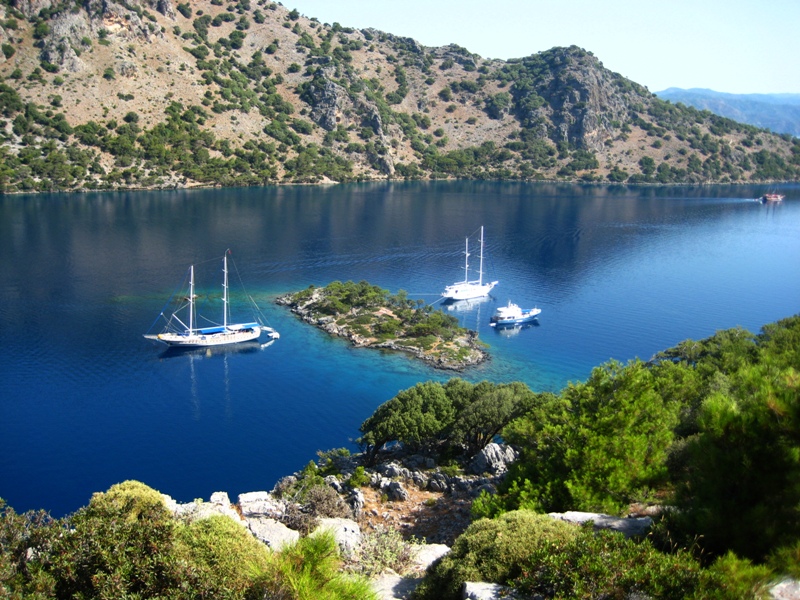 Gocek
Muğla province, one of the South Aegean provinces, is a part of the province of Fethiye. It is a settlement concentrated in the sea coast in the coastal band which is located in the Gulf of Fethiye and is known as Göcek bay. Surrounded by steep climbing mountains except for the southern direction to the sea, Göcek has a limited land located in a single nest between these mountains.
It is very convenient to reach to Fethiye by coming from Dalaman and reaching full service of multi-lane highway. The Göcek Tunnel, which was completed in 2006 and has a length of 980 meters, has been overtaken by the Göcek Passage and ramps that disturbed those who travel here.
Gocek has lived as a small and quiet village until the beginning of 1980's. Discovered in parallel with the development of tourism consciousness in Turkey, Göcek has grown rapidly after this date and the importance in the region has increased. He is one of the most well known tourist locations in the region he is currently in.
The tourist season in Gocek, which is considered as a popular riviera with its perfect nature and sea, runs from April to November.
The geographical structure of the bay, in which Göcek is located, serves as a calm and sheltered harbor. Numerous beautiful villagers, small tropical islands and pristine turquoise waters provide all the facilities required for holidaymakers and sea lovers. These features of Göcek bay have been a perfect stopover and accommodation spot for the lovers of open sea and blue cruise. There are four different international marinas in the center of Göcek to meet this need.
International Airport 22 km by road. It is a great advantage for those who travel to this area. Among the people who are aware of and appreciate this advantage, the famous simalaras known all over the world are the guests that Göcek is heavily influenced.
Göcek supports not only marinas for yacht passengers but also accommodation, technical service, küminyane sanini, communication and health services. Göcek Yacht Club organizes yacht races in May and November, which provide gocek lovers of all over the world to meet.
Gocek is the best point of departure for Blue Voyages at the same time whether it is to go to Göcek by sea or by road and to spend its holiday here in social, cultural, technical and health fields with its whole infrastructure. The rotalas in the southern Aegean and Mediterranean waters are the easiest way to exit and have excellent destinations on the route.
There are no multi-storey buildings and facilities in Gocek, which is under Special Environmental Protection. The majority of accommodation facilities are hotels with few rooms, apartments and pensions. The majority of the tourism businesses run by the locals are honoring their guests with friendly hospitality in accordance with the character of the locals.
Surrounded by green pine forests all around except for the sea direction, Göcek has the richness of being able to serve any kind of holiday with its untouched nature.
Many ancient ruins carrying the traces of Lycian civilization were interspersed around Göcek and even on the islands. Sometimes you may encounter these years of historic texture beneath your feet when you are looking at a koya from a distance, walking on the slopes or swimming in the sea.
You can always find daily tour boats in Göcek city center. There are also dolmuş boats coming and going to nearby Göcek Island. If you have given your Blue Cruise decision to Göcek when you arrive there are professional businesses that can provide you with a rental boat immediately.