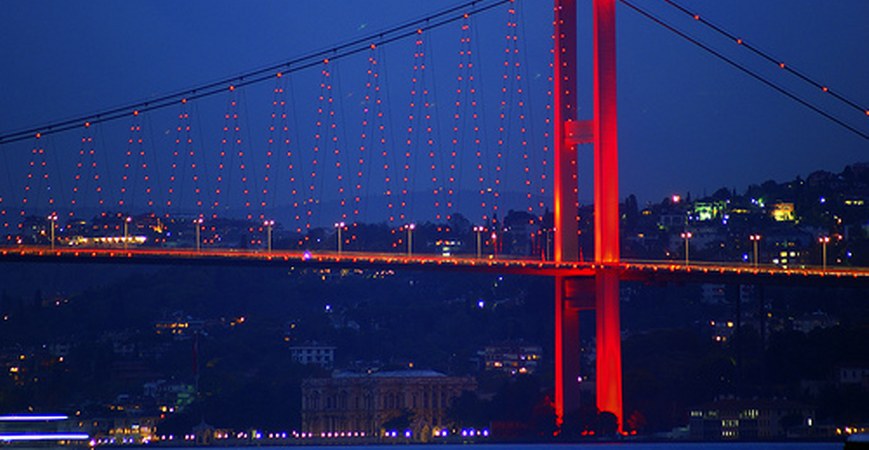 Bosphorus
Istanbul Bosphorus – Introduction – Information
The name given to the waterway that connects the Bosphorus, the Black Sea and the Sea of Marmara.
Istanbul separates Rumeli (Europe) and Anatolia (Asia) from each other. Its length is 32 kilograms flat. The lengths of the shores occur when the incisions and protrusions join the calculator. Rumeli near the Rumeli Feneri'dan walking along the Golden Horn to the Ahırkapı Lighthouse 55 kilometers in length, Anatolian Lighthouse between the length of 35 kilometers between the Anatolian Lighthouse and the Kaymak Burnu in Selimiye in front of the length is 36 kilometers. The widest part of the Bosphorus is 3600 meters between Anatolian Lighthouse and Rumeli Lighthouse, and the narrowest place is between Anatolian Fortress and Rumeli Fortress at 760 meters. The deepest part of the Bosphorus is 120 meters between Baby and Kandilli.
There are flows from the Black Sea to the Marmara in the Bosphorus, and from the Marmara to the Black Sea under water. There are also occasional counter currents on the surface of the water.
Boğaziçi Bridge, 1073 meters long, opened in 1973 on the Bosphorus, and Fatih Sultan Mehmet Bridge, 1090 meters long, which was opened in 1986, connect the two shots. It is expected that the Marmaray project, which will cross the strait, will be completed in 2013.