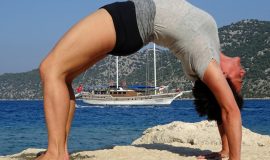 0.00€
---
Western Turkey tours itinerary provide you an amazing vacation in Turkey. If you do not like much organized tour than western Turkey tours package programme is the best option for you. You will do guided historical tours to famous ancient cities and you will have own car for free time, relax and drive one town to other as you wish. You do not need to think others. You'll do relaxing and historical holiday in 10 days.
---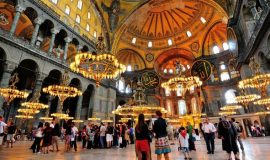 2889.00€
---
30 Days Turkey Tour Package; This is the longest and best package option that we can offer and organised while you are in Turkey. In this packsge you will have a enough time to analyse and enjoy each local town, cities, from one side to the other. You have enough time to explore every each city. You do not have tour everyday.
---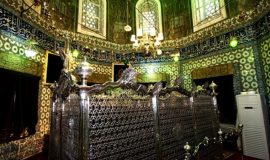 0.00€
---
It is a great 9 days tour package in Turkey to explore Islamic Sights in Turkey and also some historical sights. The package covers Sahaba's Tomb in Istanbul and other historical sights, cruise on the bosphorus and Ancient Cities in Turkey. If you are looking for historical and Islamic sights tour in Turkey, 9 days Islamic & Historical Tour Package is one of the best option.
---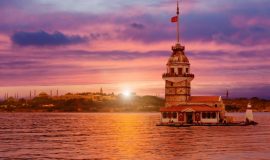 0.00€
---
Anatolian counrty reserved many different legends and epic stories in its heart. All of these stories belong to many different civilizations who lived in this land throught to ancient ages. So the heroes of these mystic legends left many great traces, let the humanbeing find them.
---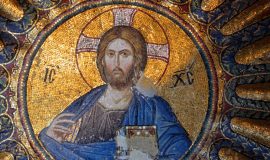 0.00€
---
On the St.Paul's Walk of Mission tour in Turkey you will find yourself in a epic and spiritual story. When you following footprints of St.Paul you're not only share he's mission also you are going to discover Anatolian's first Christians wealths.Hundreds of years old churches, altars,monasteries and tons of untold history. "Lift a stone, and you will find me there.! (Thomas 19-77)"
---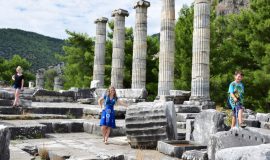 939.00€
---
The other long termSpirit Of Anatolia Package Tour - 10 Days option is giving you chance for visit 10 most important ancient site and the historical area ( Gallipoli, Troy, Ephesus, Priene, Miletos, Didyma, Hierapolis, Perge, Aspendos and Cappadocia) in 4 different region of Turkey.
---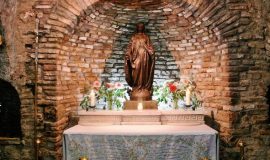 0.00€
---
Private guided seven Churches of Revelation Pilgrimage tour in Turkey covers your domestic flight tickets, 2 night hotel with breakfast, private 3 days guided tours with lunch, domestic flight tickets and entrance fees to sights in the programme.
---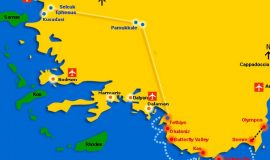 69.00€
---
This tour is not the Door to Door tour, however it's still best / easiest option to do this journey. The first leg is by local bus, rest of the day is on our tour bus. While you are travelling from Fethiye to Kusadasi / Selcuk (Ephesus), let us arranage all your transportation and we will show you Pamukkale Calcium Terraces and Hierapolis Ancient City on the way as well.
---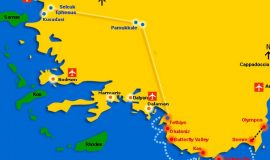 89.00€
---
Semi Bus Tour From Kusadasi And Selcuk To Fethiye gives you a chance to visit Pamukkale white terraces and the Ancient city of Hierapolis ruins . Semi Bus Tour includes transportations, lunch, entrance fees and a tour of pamukkale with english guide. The journey is door to door between hotels of Kusadasi, Selcuk and bus tickets to Fethiye which would make your day so easy and enjoyable.
---

0.00€
---
Private Sardis day tour starts from your hotel in Ephesus, Kusadasi, Selcuk, Izmir, cruise port or Izmir Airport. You will have private day tour with your personal guide and vehicle. You will explore The Ancient Capital Of The Lydian Empire and One of the Seven Churches of the Revelation of St. John.
---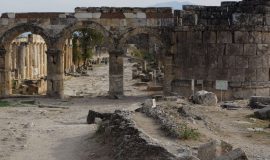 0.00€
---
If you have already hotel reservation in Izmir, Selcuk or Kusadasi than this private day tours package will be best option for you. You will visit the sights as you wish with your personal local guide from your hotel. Private Ephesus - Pammukkale - Priene - Miletus & Didyma Day Tours available everyday from Kusadasi, Selcuk or Izmir Hotels.
---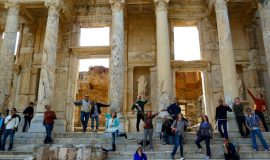 0.00€
---
Private Ephesus Tour From Kusadasi Cruise Port This is a tour covers the Ephesus ruins and the Virgin Mary House. It is a private tour including the professional tour guide, transportation and museum fees of those place.
---

0.00€
---
We will pick you up from Izmir Cruise port with your name sign in the morning and drive to western part of Turkey. You will explore 3 ancient cities Priene, Miletos & Didyma with professional tourist guide. At the end of the Priene, Miletos & Didyma guided tour, we will drive back to Izmir cruise port.
---

75.00€
---
If you are staying one of hotel in Selcuk, Kusadasi or Izmir than you can join our day tour to Priene, Miletus and Didyma Ancient cities. This is nice option to explore other ancient sites on the western part of Turkey. You will join our daily guided tour and get full information about Priene, Miletus and Didyma Ancient cities.
---