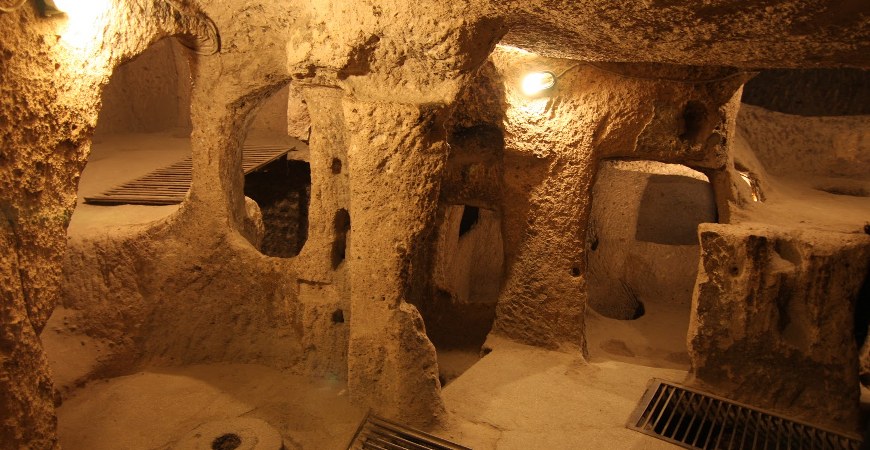 Kaymakli Underground City
Kaymaklı Underground City is one of the most important of the nearly two hundred underground cities in Cappadocia region. Located in Kaymakli Town, which is twenty kilometers from Nevşehir, the city dates back to 3000 BC.
Kaymaklı Underground City, which is one of the biggest ones with its capacity of 5 thousand people, is located on UNESCO World Cultural Heritage List since 1984.
The city has eight floors and is open to the first four floors of the city. There are large slab stones on the doors to the rooms and halls that are connected to each other with narrow corridors, wine cellars, water tanks, kitchen and storage warehouses, ventilation chimneys, churches, water wells.
The first floors of Kaymaklı, which was built in the Hittites period and expanded in the Roman and Byzantine periods and transformed into an underground city, were also separated into stables as in other underground cities.
Kaymaklı Underground City
The first floor of Kaymaklı Underground City consists of stables as animal shelter. The stables at the same time provide passage through many corridors to churches and other parts of their habitats. This passage is passed to the church on the second floor with a passageway that can be closed with the bolts.
On the second floor there is a baptistery in front of the church apses with a single nephew and two apses, and there are sections to sit on the edges. At the end of the church there is a cemetery that is thought to be important people or church officials. On the second floor, there are still 200-500 pounds of loose stones against the danger. It is thought that these stones, which are round and hollow in the middle, are used to see who is coming and if the enemy is to be removed with spears.
The third floor of Kaymaklı Underground City has a copper processing workshop as well as sections such as food storage, shirafane, kitchen and living areas. The large pit opened at the base of the workshop, which is also found in many andesite stones, is shown as proof that the copper processing methods known since prehistoric times are used exactly as they are here.
This narrow tunnel on the fourth and last floor, which can be reached through fairly narrow tunnels believed to be carved for defense purposes, was designed to overcome attacks that might occur. This floor also has sections such as an accessory store, a kitchen and a tandır place. On the other hand, the multiplicity and breadth of the production, processing and storage spaces on the fourth floor are shown as proof that the underground city dwellers continue their underground work on the ground as well.
Kaymaklı Underground City
Visiting days and times
April-October: 08.00-19.00
November-March: 08.00-17.00
Holiday Day: Only closed until 13:00 on the first day of religious holidays.
Entry Fee: 30 TL, valid for Müzekart
How to go Kaymaklı Underground City
Kaymaklı Underground City is located in Kaymaklı Town, which is 20 kilometers away from Nevşehir.
If you want to fly to Cappadocia by air, Turkish Airlines has daily flights between Istanbul and Nevsehir. You can be in any Nevşehir residential area with a 20-minute journey from Tuzköy Airport, which is 30 kilometers away from the center of Nevşehir. If you are thinking of going to Kayseri Airport, which is the alternative, like Turkish Airlines, Onur Air, Pegasus and SunExpress airlines also have flights from Kayseri Airport. It is possible to be in the cities of Nevşehir within 45 minutes from the airport which is 100 km away from the center of Nevşehir.
You can rent a car to get to the underground city or consider coming by taxi. However, you can easily reach Kaymaklı Underground City with Derinkuyu and Nigde dolmuses moving from Nevşehir Meteris Square.
Although all floors of the Kaymakli Underground City have not yet been fully explored, the richness of the cleared sections reveals that it is one of the largest and most populated underground cities in Cappadocia. For the purpose of defense in the city, which was carved out as an engineering wonder, measures like intelligent tunnels, trapped sections, a 10-kilometer tunnel connected to Derinkuyu Underground City were taken.